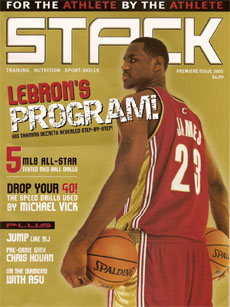 LeBron James - As featured in STACK Magazine, Premiere Issue, 2005.
[All article text and photos reproduced with permission of STACK L.L.C]
Exactly how did LeBron James become perhaps the greatest high school basketball player ever? Sweat through his high school training program and see how you stack up. An exclusive look at the training that elevated LeBron and his high school team to legendary status.
THE CHOSEN PROGRAM

Unless you've been living on Mars for the past few years, you've undoubtedly heard of St. Vincent-St. Mary High School in Akron, Ohio, and its former phenom LeBron James.
St. V and LeBron experienced an unprecedented worldwide media blitz and countless accolades for their success. But exactly how did LeBron and St. Vincent – St. Mary become known as perhaps the greatest high school basketball player and team ever?
It's June 2002 and the phone rings at Speed Strength Systems in Cleveland, Ohio. On the other end of the line is Dry Joyce, St. V's head basketball coach. Joyce has heard what Speed Strength accomplished with rising basketball stare Nene and J.R. Bremer (Nene and Bremer ranked tops out of all potential NBA prospects in athletic testing prior to the 2002 NBA draft) and wants to know if Speed Strength will train LeBron and the rest of the team.
Download the full article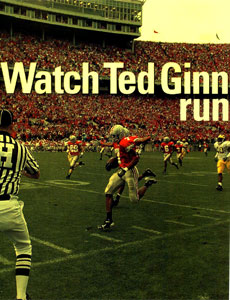 Ted Ginn Jr - As featured in Columbus Monthly Magazine, September 2005. ["Watch Ted Ginn Run" - by Eric Lyttle. All article text and photos reproduced with permission of Columbus Monthly Magazine]
It all looks so easy for Ohio State's Heisman candidate while he races down the football field faster than a speeding bullet. Appearances can be deceiving.
Ted Ginn Sr. was sitting at home watching on television last year when his son, Ted Jr., became a college football superstar. He scored three touchdowns in three different ways for Ohio State against Michigan State that Saturday in November. He took an end-around 17 yards for a touchdown midway through the first quarter. Barely a minute later, he scooped up a bouncing punt and hit high gear in two strides, blowing by Spartan defenders for a 60-yard score. And then, after Michigan State had taken a 19-17 lead, Ginn grabbed a short pass with 1:37 remaining and left two defenders looking at the name on the back of his No. 7 jersey as he ran 58 yards for the game winner.
"When Teddy caught the ball - BOOM! - he put eight yards between them before the corner could even blink."
Download the Full Article Here
Newspaper Articles - Click images to download a pdf of the entire article